BOWIECHURCH debuted on SUNDAY 8th of January 2023 at Historic Old Swedes Church in Philadelphia, Pennsylvania, as part of the famed PHILLY LOVES BOWIE WEEK.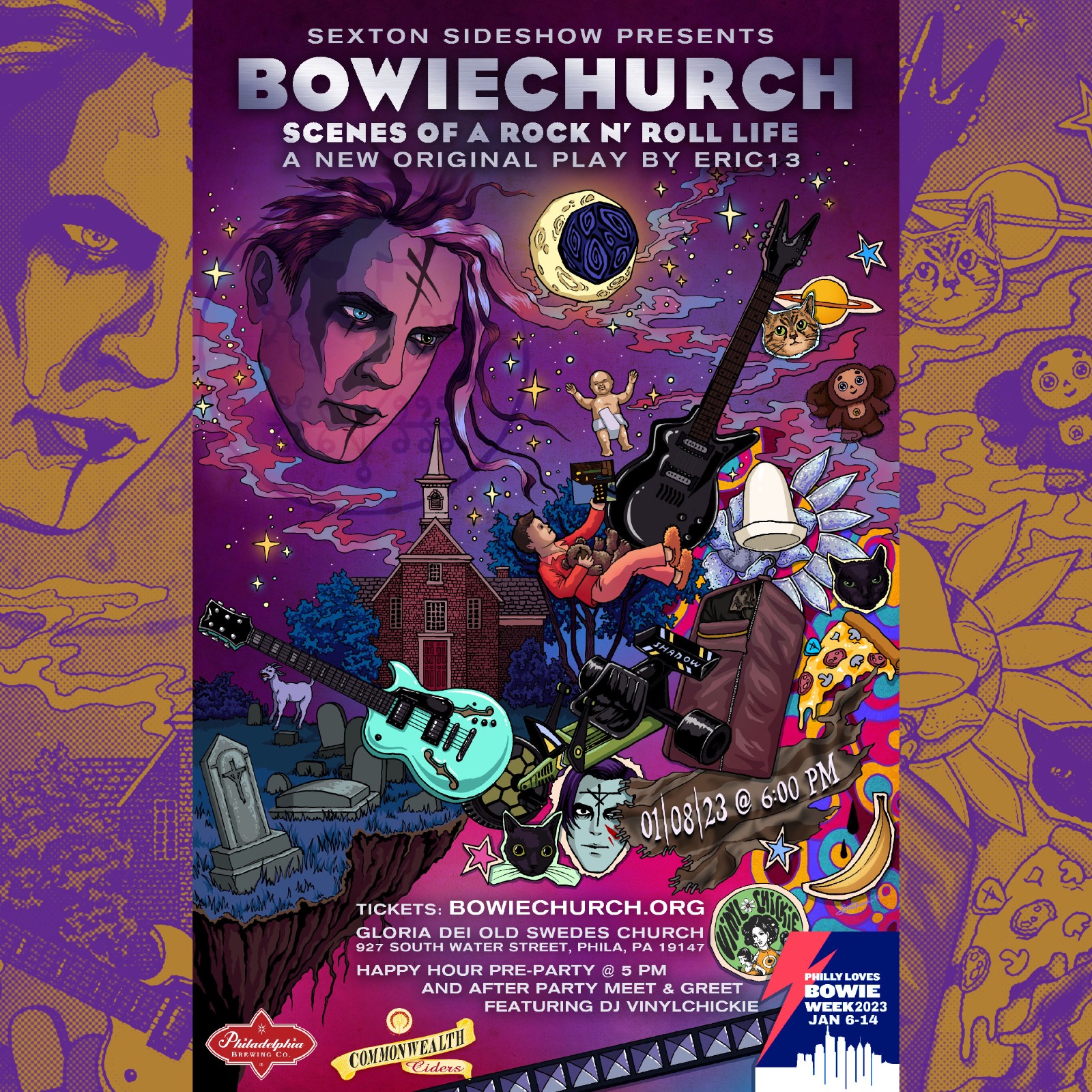 poster art by Daniella Batsheva.
SEXTON SIDESHOW PRESENTS:
BOWIECHURCH: Scenes of a Rocknroll Life is a new, original one-man show written & performed by singer, guitarist & world traveler ERIC13.  Peek into the wild and complex world of the music industry and beyond, as seen through the eyes of this ever-evolving, ever-adventuring independent artist.  
BOWIECHURCH explores the phenomenon of how the music David Bowie has been present alongside some of ERIC's most memorable and frightening life experiences. Performances of classic Bowie & new original songs are woven into one tall tale you must hear to believe. The crazy part - they're all true stories! 
DJ Vinyl Chickie spun records at Happy Hour Pre-Show & After Party!
OFFICIAL SCHEDULE
5:00pm - HAPPY HOUR at Riverside Hall
6:00pm - BOWIECHURCH in the Gloria Dei Sanctuary
7:30pm - AFTER PARTY and MEET & GREET at Riverside Hall
GLORIA DEI OLD SWEDES CHURCH is located at 927 Water Street, Philadelphia PA 19147
(on the corner of Christian St. & Columbus Blvd.)
FREE PARKING on site.
P.S. this show has nothing to do with religion. All welcome!
Special thanks to our sponsors PHILADELPHIA BREWING COMPANY and COMMONWEALTH CIDERS.
Proud to be a part of PHILLY LOVES BOWIE WEEK!